INTRODUCING CRAFT TRUCK.U
How to Produce and Distribute Your First (...or Second) Movie
(Even if you don't know anything about the film business)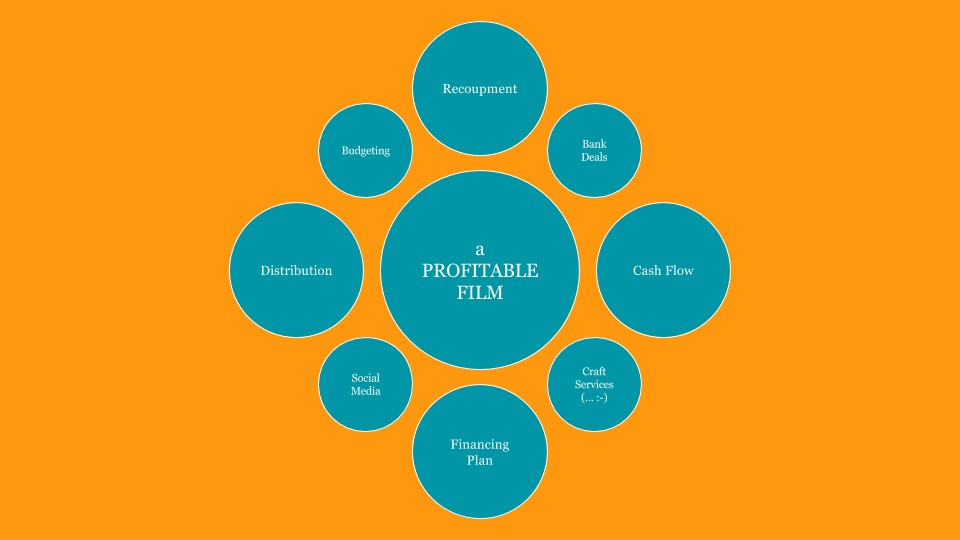 Here's what you'll get inside:

MODULE #1
GETTING STARTED
We'll share with you the #1 Golden Rule of being a producer and why this rule is critical to your success as a producer and filmmaker.
Also, we go into detail on the major differences between Film & TV and how to leverage this difference to be your main asset to get your film made.
---
MODULE #2
DEVELOPMENT
There's a reason why they call it "development hell". Well, it doesn't have to be. We go through all the major components and give you the straight goods on:
---
MODULE #3
FINANCING
At the heart of this course we want to answer the fundamental question:
How do you finance your film?
... And so, we spend a lot of time deconstructing the financing puzzle for you.
Want to know the major sources of financing? We cover that.
How about how to utilize bank financing? We deep dive this one.
What about GAP financing? Absolutely.
Financing your film is a complicated. So we take the time to explain the pieces and how they fit together for you. We then give you the tools and strategies you can use to piece together your own financing plan.
---
MODULE #4, 5, 6
THE PRODUCTION ESSENTIALS PACK
This is where we deep dive into three aspects of the film business and break them apart, piece by piece. Here's what you'll learn:
How to Create a Film Cash Flow
(...so you can get money from the bank!)
...from Scratch!
Here it is. A complete tutorial on how to build a cash flow schedule for your film.
This 10-part module takes you from exporting your Movie Magic Budgeting file and importing it into Excel, to preparing, analyzing, and building your cash flow so it's ready to go to the bank!
And you will get my personal cash flow template that I use on all my films.
WHY YOU NEED THIS
If you are working with multiple investors, tax rebate or subsidies, government grants, tracking your films finances can get tricky. And if you need to go to a third party lender, like a bank (or uncle Tom), then they will need to know how you plan on spending their money and what the "cost of their money" really is.
Whether it's a micro budget project or a multi-million dollar film, this detailed walk through will teach you how to build a proper cash flow model. And it's everything you need to give a bank confidence that you know what you are doing.
When you are done. You will be able to use this cash flow to help determine how best to finance your film and get money from the bank.
WHAT YOU GET
Over 1-hour of step-by-step instruction on how to build your cash flow.

10 part video series detailing each part of the cash flow process.

How to calculate your interim financing needs.

Preparing your inflows and outflows and how to build the model.

How to save money on your film production, the practical way.

Two Excel templates: a blank model template document so you can follow along at your own pace, and the completed worksheet as well.
HOW TO CREATE A RECOUPMENT SCHEDULE
(... aka the "waterfall")
If you are raising financing from investors, creating a Recoupment Schedule (known as a waterfall), for your investors is critical.
Your investors will want to know how they will get their money back. It's your job, as a filmmaker, to create a waterfall that shows how all the revenues break down.
In this module, we do just that. We go walk through a series of examples, including 4 separate recoupment structures, to teach you how to build your own Recoupment Schedule.
Included in this 6 part tutorial, you can follow along with our custom excel template.
HERE'S WHAT YOU WILL LEARN
Complete overview of what and how a Recoupment Schedule works.
How to create a waterfall.
How to carve out a "corridor" for your film.
"Crossing Mechanism" - and how they work in a multi-territory sales model.
Profit Participations: how and when you enter profits.
Stress testing your film sales to see if it will make money.
A complete start to finish BONUS Example!
MUSIC LICENSING
You'll learn the basics of music licensing. This stuff gets confusing!
How to acquire music rights.
The right way to work with composers and what you need to look out for in your deals
Understanding music royalties and how you can make money from setting yourself up properly.
You'll also get our music cue sheet template.
---
MODULE #7
HOW THE FILM DISTRIBUTION BUSINESS
REALLY WORKS
OVERVIEW:
In this introductory video we take a top down approach from Gross Sales straight through to you, the filmmaker. We discuss all the steps along the way and what producers need to pay attention to in the distribution chain.
Want to know how to create a financial model?
We go from Gross Revenue to Return to Investor. Here's how we break down the the seminar:
BUILDING A FINANCING PLAN:
In this segment we dive into building an actual financing model, sources of financing available, working with sales companies, and understanding how to start generating revenue for your film.
THE GROSS SALES PIE:
How do revenues really flow back to the producer? This is where we break down common obstacles and problems that filmmakers face, including where in the chain revenues "leak" from point of sale to you, the filmmaker.
HOW TO INCREASE ROI:
We get into the nitty gritty of theatrical distribution revenue, aggregation costs, off-the-top expenses and start to play with the distribution model to affect overall ROI.
This is where you will start to see why certain specific definitions really matter. What you can do about them. How to protect yourself. And things you NEED to look out for if you are going to successfully produce a return on your investment.
---
MODULE #8
WORKING WITH A SALES COMPANY
(... Why this might just be the most important section of the course?)
Because the Sales Company is your go-between. They are the ones that are between you and your return on investment. Here's what you'll learn and why it's important for you:
When to engage a sales company - and how timing might make the difference between festival sales or not.
The differences between a Sales Company & Distributor and what this means for your bottom line.
Understanding the exact flow of revenues and how to protect yourself.
---
MODULE #9
RETURN ON INVESTMENT
Want to see actual distribution reports?
We deconstruct various distribution reports so you understand what to look out for. This will help you better understand what a typical deal might look like, and things that you should avoid.
Do you want to "monetize" your film?
Sometimes it's easier to finance a larger budget project than it is a micro budget project... and we're going to show you "how" and "why".